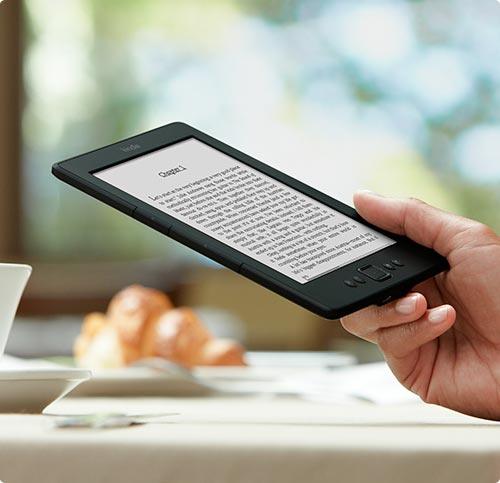 Amazon's newest Kindle 4 e-reader launched recently is 30% lighter than before as compared to its predecessor – the Kindle 3, and all in all it weighs less than 170 grams. With an even better set of hardware and feature-wise offerings from Amazon, the Kindle 4 is definitely a fresh addition to the complete Kindle lineup. Let's see how the device performs in our full review of the new Amazon Kindle 4 e-reader.
Hardware
The new Amazon Kindle 4 e-reader has an 18% smaller body but with the same 6″ screen size. As such, it fits in your pocket very comfortable and makes it very portable and easy to handle. The device measures 166 mm x 114 mm x 8.7 mm in dimensions. It comes equipped with 2 GB of internal storage memory, out of which approximately 1.25 GB is available for user content.
In terms of visual display, the e-reader features Amazon's 6-inch E Ink Pearl display with optimized font technology, 167 ppi, and 16-level grey scale configuration, making it one of the best displays on an e-reader tablet device to-date – an achievement for Amazon in its own.
Performance
Needless to say, the highlight of the Amazon Kindle is the eInk Pearl Screen display, which is a thing of beauty. The combination of the 50% better contrast of the eInk Pearl screen, the graphite casing that helps highlight the improved contrast, and subtle software tweaks means that the Kindle 4 leaves every other eReader behind.
Page turning of the Kindle is extremely fast and happens instantly giving the user a fluid experience. The large storage memory on the device means that it can hold up to 1,400 books and in a way, you can keep your library with you wherever you go.
The design of the Kindle is ergonomic with built-in keyboard for notes and SD card expansion slot. The device is completely compatible with Windows and Mac machines.
When it comes to battery life, Amazon claims that the new Kindle 4 e-reader can last up to one month with wireless off based upon a half-hour of daily reading time on a single charge. On the other hand, if you keep wireless always turned on then it will last for up to three weeks. This means that battery life will vary based on wireless usage, such as shopping the Kindle Store, web browsing, and downloading content.
Software
Software on the Amazon Kindle is designed keeping the literary enthusiast in view – it selection of fonts and features such as dictionary options and access to the Kindle Store – will keep the average e-reader user more than happy. Furthermore, it supports public and private Wi-Fi networks running on standard 800 series protocols. Since it is a wireless device, it doesn't require a computer to download content. Free cloud storage for all Amazon content is also available to all Kindle users.
Verdict
Amazon's new Kindle 4 e-reader is quite possibly the best solution which a modern literary enthusiast can opt for to satisfy his or her needs. Its screen does a great job for simulating a printed page and access to a large library of tens of thousands of e-books, newspapers, magazines, and blogs via Amazon's familiar online store means that the Kindle experience may be far better than that of any other competing e-reader.