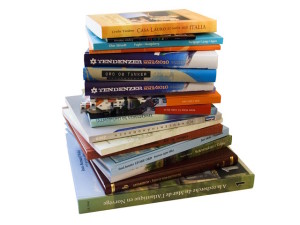 Many online shoppers and regular customers of the immensely popular online retail store Amazon are unaware of the fact the while it has come to be one of the world's largest online retailers, it initially started out as an online bookstore. What we see now of Amazon is a diversification of its original idea, but it has indeed stayed true to its roots with an ever-evolving collection of books. Amazon books is Amazon's portal that offers one of the widest selection of books on the internet – and quite possibly the world – for those who love literature. Let's take a look at some of the popular and bestselling books on Amazon Books.
And The Mountains Echoed
And the Mountains Echoed is an emotional tale that comes from #1 New York Times–bestselling author of The Kite Runner and A Thousand Splendid Suns, Khalid Hosseini. The tale revolves around not just parents and children but brothers and sisters, cousins and caretakers and explores the many ways in which families nurture, wound, betray, honor, and sacrifice for one another. The story follows its characters and the ramifications of their lives and choices and loves around the globe—from Kabul to Paris to San Francisco to the Greek island of Tino, becoming more emotionally complex and powerful with each turning page.
Amazon Books Price: US $16.08
Gone Girl: A Novel
In Gone Girl: A Novel, one of the most critically acclaimed suspense writers of our time and New York Times Bestselling author Gillian Flynn has crafted masterpiece about a marriage gone terribly, terribly wrong. With her razor-sharp writing and trademark psychological insight, Gillian Flynn delivers a fast-paced, devilishly dark, and ingeniously plotted thriller that confirms her status as one of the hottest writers around.
Amazon Books Price: US $16.08
Divergent
Divergent is an emotional and thrilling novel from author Veronica Roth that tells the story of a dystopian Chicago world in which society is divided into five factions, each dedicated to the cultivation of a particular virtue. On an appointed day of every year, all sixteen-year-olds must select the faction to which they will devote the rest of their lives. For Beatrice, the decision is between staying with her family and being who she really is, and the problem is that she can't have both. The thrilling novel is filled with electrifying decisions, heartbreaking betrayals, stunning consequences, and unexpected romance.
Amazon Books Price: US $5.99
The Alchemist
Every few decades a book is published that changes the lives of its readers forever. The Alchemist is such a book. Penned by world renowned author Paulao Coelho, The Alchemist is the magical story of Santiago, an Andalusian shepherd boy who yearns to travel in search of a worldly treasure as extravagant as any ever found. From his home in Spain he journeys to the markets of Tangiers and across the Egyptian desert to a fateful encounter with the alchemist.
Amazon Books Price: US $8.91
Doctor Sleep: A Novel
Stephen King is perhaps the undisputed king in the horror, suspense and mystery-thriller genres of literature. Doctor Sleep: A Novel is an epic war between good and evil, a gory, glorious story that tells the story of Dan Torrance, one of the lead characters in King's 'The Shining', who is haunted by the inhabitants of the Overlook Hotel where he spent one horrific childhood year. Finally, he settles in a New Hampshire town where he meets the evanescent Abra Stone. Things turn for the bizarre, and they reignite Dan's own demons and summons him to a battle for Abra's soul and survival.
Amazon Books Price: US $17.55