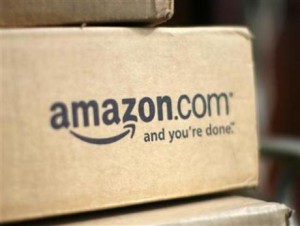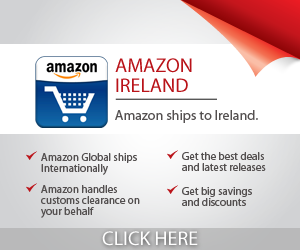 Amazon has been existing for several successful years now. No wonder, it is considered as world's most popular and reliable online store. Aside from its flagship US store (Amazon.com), it also has a number of stores in different countries i.e. Amazon.de – dedicated for German consumers. Amazon.co.uk and Amazon.de may be convenient to Irish online shoppers but a locally available Amazon.ie or Amazon Ireland is definitely better. Unfortunately, however, Amazon does not have such store dedicated for Irish consumers.
Aside from the Europe-based Amazon stores such as Amazon.co.uk, Amazon.de and Amazon.fr, did you know that Amazon.com (Amazon USA) also ships internationally, and of course, that includes, Ireland. I know by now, you must have made a purchase at Amazon.co.uk  but most of you haven't with Amazon.com. Details are provided below on how you can shop at Amazon.com from Ireland.
The Amazon Global Program
The program "Amazon Global Program" is the program Amazon.com operates on your behalf to provide you: duty and tax estimation during checkout, unique service and customs clearance. With this program, Amazon.com is fit to take orders from international consumers/customers and ship these in most countries (about 55 countries) outside the U.S. including Ireland. Amazon has dedicated a separate page in its online store where all the items that are available for international shipping and delivery are listed.
Search and Buy Through the Amazon Global Program
First, click on this link. This will take you to the Amazon Global page where the product search box is, by default, set at "International Shipping." (Image below)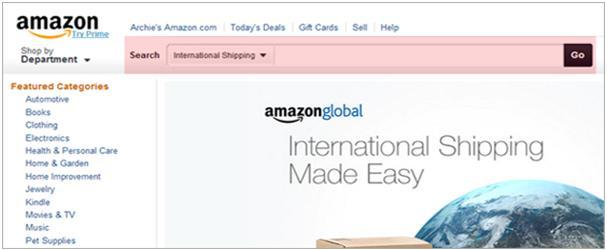 Second, when searching for items, you will find a list of filters located at the left sidebar of Amazon's webpage. Find the "Amazon Global Eligible" option and make sure the box right before it is checked. This will also sort all products available for international delivery, as revealed on the image below.
And finally, if you did not go through Amazon Global landing page and you are in a specific product page, check the "Product Details" just to be sure that the product can be shipped to Ireland, and find the sentence, "This item is also available for shipping to select countries outside the U.S." The quoted sentence must be present on the product description page as shown in the image below.
About The Import fee deposit
Another significant point to consider when buying at Amazon.com from Ireland is the "Import Fee Deposit". As its name imply, this fee is charged for purposes of clearing your items in your local customs office. Amazon spends this amount for the taxes and duties relevant to the importation of your orders to Ireland. That being said, in estimating this fee, Amazon takes into consideration the prevailing importation laws in Ireland.
Hence, aside from the actual price of the item you ordered and the shipping rate (which is discussed below), you will also have to advance your import duties. This will make you Amazon.com purchase less cumbersome since you do not have to do the clearance by yourself as Amazon and its partners will work on it on your behalf.
Now, the fee will not be termed as "deposit" without any reason. This fee is only initial advances of the estimated import fees. In the event the actual import fees collected by the customs office is lesser than that what Amazon collected, the latter will issue a refund. If it the deposit is the one which is lesser, then you'll be charged of the deficiency.
About The Delivery/Shipping Rates And Times
Another factor that finds significance when shopping from an international online store is the delivery rates and transit times. The rate in particular could help you decide whether to pursue with your order or instead, you'll just look for a locally available product similar to the item you wish to buy from overseas. The reason is that delivery rates may significantly make your overseas purchase more expensive. Of course, this is not true in all cases. To be sure, you can check below the different rates that Amazon offers to Irish customers.
Below are the current shipping speed and rates charged by Amazon for deliveries to Ireland:
If you are running out of extra budget for shipping and transit time is not an issue to you at all, select the Standard Shipping method. Transit time to Ireland takes about 13-30 days. Do note however that standard shipping is only available to short range of products.
| Product Category | Per Shipment | Per Item |
| --- | --- | --- |
| Books, VHS videotapes | $3.99 | $3.99* |
| CDs, DVDs, Blu-ray, Music Cassettes, Vinyl | $3.99 | $2.49* |
| Any combination of the above items | $3.99 | As above |
With an approximated shipping time to Ireland of 8-19 days and a fairly afforadable fee, Expedited Shipping gains popularity to international customers of Amazon.
| Product Category | Per Shipment | Per Item |
| --- | --- | --- |
| Books, VHS videotapes | $6.99 | $5.49* |
| CDs, DVDs, Blu-ray, Music Cassettes, Vinyl | $6.99 | $2.99* |
| Jewelry, Watches, Clothing Items | $6.99 | $4.49 |
| Shoes | $7.99 | $3.99/lb |
| Automotive, Baby, Computers, Electronics, Home, Personal Care, Kitchen, Outdoor Living, Sports, Tools, Toys | $6.99 | $1.99/lb |
| Luggage | $13.99 | $2.99/lb |
| Any combination of the above items | $6.99 | As above |
With a transit time of 2-3 days, Priority Shipping is the best choice for those who are willing to spend extra cost for delivery.
| Product Category | Per Shipment | Per Item |
| --- | --- | --- |
| Books | $21.99 | $8.99 |
| Software, Video Games, CDs, Music Cassettes, Vinyl, Blu-ray, and DVD | $21.99 | $2.99 |
| VHS videotapes, Jewelry, Watches, Clothing Items | $29.99 | $5.99* |
| Shoes | $29.99 | $4.49/lb |
| Computers, Electronics | $29.99 | $2.99/lb |
| Luggage | $29.99 | $4.99/lb |
| Automotive, Baby, Home, Personal Care, Kitchen, Outdoor Living, Sports, Tools, Toys | $29.99 | $5.99/lb |
| Kindle or Kindle Accessories | $14.99 | $5.99 |
| Any combination of the above items | Highest Applicable per-shipment charge | As above |
Buying Items Not Available For International Shipping Employing Freight Forwarder
As repeatedly mentioned above, the Amazon Global does not work for all products listed at Amazon.com. It is available only for a limited range (but the range is huge enough though) of products. In the event you have no other option and the item is available only at Amazon.com, you may use the services of freight forwarders. Details are elaborated below.
 What can Freight Forwarding Service Companies do for you?
To simply put, freight forwarders are service companies that provide virtual USA shipping address for purposes of online shopping. This is specially made available  to shoppers outside the United States. They give an address that can be used as your shipping address in your chosen online shop. When the order is shipped to this address, the company will then forward the item to your actual address.
Which Best Freight Forwarder do I recommend?
Among the freight forwarders I have personally used in the past, Shipito.com is probably the one I could recommend. They only charge a fee of as little as $8.50 per shipment only. Also, they offer discounted postage rates.
How does the process work?
Shipito, in particular, works in this manner:
You register an account by following this link. When registering, you may chose among several service plans being offered by Shipito. We recommend the Per Shipment account for those who will not shop overseas very often in a month.
As soon as the account is set up, Shipito will provide a unique shipping street address in the USA. The address will look like this:
Your name (address will be specified during registration) Suite # (box number) Torrance, CA 90503
You can start shopping online once you receive the address and remember to key in the Shipito-provided address as your shipping address.
As soon as your item reached the Shipito Address, the company will notify you and request that you now initiate the shipping of your item to your real address.
You will be given a number shipping options to Ireland during this process. The forwarding fees and the postage will be calculated as well. After the payment of these fees, the item will be sent to you.
Of course, since this purchase is, in the strict sense, an importation, it has to undergo customs clearance. Once it is cleared, it will reach your doorsteps in no time.
I hope this guide has been somewhat helpful in creating for you, your own personal Amazon Ireland. And please don't hesitate to share your own thoughts and to include helpful information in the comment. Sharing is an act of love; please share with friends who need this guide.