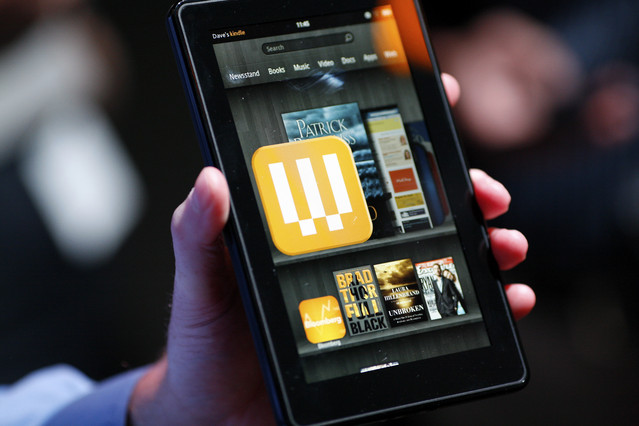 With a very simple idea in mind, Amazon came up with its Kindle Fire tablet PC experience and marked its entry into the tablet market. It believes, quite rightfully so, that it can replicate the success of its all-conquering Kindle reader devices by once again taking a hit on the hardware. Featuring a very subtle hardware configuration in the Kindle Fire, the built-in ecosystem of books, magazines, apps and movies Amazon offers allows it to do what RIM, LG, Samsung, HTC, Motorola and for that matter almost all smartphone companies can't. Here, we take a look at the amazing Kindle Fire tablet PC and how it has helped to shape the user experience in the current competitive market.
Hardware
The Amazon Kindle Fire is a glossy jet-black device that has a 7-inch screen with soft and comfortable rubberized, matte casing around the back and edges. The tablet is just 0.45 inches thick with an even significantly thinner bezel. The device is also very light in weight, weighing just 14.6 ounces light.
Inside, the Kindle Fire boasts a 1GHz dual-core Texas Instruments OMAP processor with 512MB of RAM. One of the most impressive aspects of the Kindle Fire is the 7-inch, 1024×600 IPS LCD screen that offers crisp and crystal clear display for an engaging user experience.
Performance
In a tablet worth a mere US $159, one may not expect ground-breaking performance. However, you'd be amazed to see the level of fast-paced action and smooth user experience that the Kindle Fire can deliver. On certain occasions you may experience a little bit of a lag when opening apps and selecting new items from within apps, but this shouldn't be something overly annoying or apparent. Once the apps do load up, it is a very quick, fast and smooth user experience.
The stereo speakers are positioned at the top of the device as you hold it in portrait orientation. This seems unusual, but once you're playing a video and hold the device in landscape, it no longer matters. Having said that, speaker quality is not the best when compared to other tablets, and you would have a better audio experience when using stereo headphones.
When it comes to battery life performance, the Kindle Fire boasts a pretty massive 4400mAh battery. The battery is so large that it takes up most of the space on the inside of the tablet. According to estimates by Amazon, he battery on the Kindle Fire has an approximate lifespan of 8 hours of video playback and 7.5 hours of continuous reading per single charge.
Software
Initially, the Amazon Kindle Fire ran Android 2.3 Gingerbread when it first hit the market, which is primarily a smartphone software. However since then, the OS has been updated to 6.3.2 Ice Cream Sandwich, which allowed for longer movie rentals and the ability to sync content to the Amazon cloud. It is expected hat with the recent launch of the Andriod Jelly Bean OS, the software on the Kindle Fire will be updated once again.
Verdict
Despite some of its minor flaws, the Amazon Kindle Fire still represents astonishingly good value for money. Amazon has unquestionably succeeded in producing a brilliant media consumption device that doesn't break the bank. With great performance, great user functionality and access to the Amazon Cloud, the Kindle Fire is an enjoyable device to use and defies its price point in almost all areas. A great buy indeed.