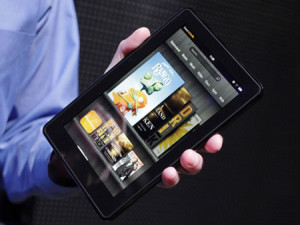 The newest Amazon Kindle Fire is a very unique offering by Amazon into the tablet PC market. It may not boast of the large variety of features or hardware configuration which other notable and famous tablets in the market may have, but it still delivers its worth and more than exceeds your expectations. The Amazon kindle Fire is a very bold move by Amazon in a market where high-specs and considered everything, but this tablet takes you back to the roots of a greatly satisfying user experience. Let's see more in our full review of the amazing Amazon Kindle Fire.
Hardware
The Kindle Fire uses the TI OMAP 4 dual-core processor so operates at a very competent speed of 1 GHz. It has a high-resolution multi-touch 7 inch screen with a wide viewing angle. Despite its cheap price, it defies the expectation of looking or feeling cheap. It may not be the lightest tablet available, but you certainly cannot call it heavy as it can easily be held in one hand for long periods of time.
The device has a soft and comfortable rubberized, matte casing around the back and edges. The tablet is just 0.45 inches thick with an even significantly thinner bezel. Furthermore, the 1024×600 IPS LCD screen offers crisp and crystal clear display for a very immersive user experience.
Performance
The sound hardware and the software come together in a great way to provide you with a very efficient machine. While the app load times may not be as fast as those found on other high-value tablets in the market, you really can't complain as Amazon have ingeniously devised a tablet for everyday use for the average everyday consumer in a very affordable price range of US $159. Having said that, app load times are still great, especially for users who are new to the tablet experience.
In fact, the Amazon Kindle Fire is a great investment for those who are just starting out or are planning to purchase their first tablet PC devices.
Battery life performance on the device is just amazing. It is worth mentioning that Amazon has said you can expect 8 hours of continuous reading and 7.5 hours of videos before your battery requires charging. The Kindle Fire boasts a pretty massive 4400mAh battery and for most intents and purposes, you will see the estimates of Amazon to be quite true for your needs.
Software
It runs on a customized version of Android 2.3 OS which many of us are already familiar with. While iTunes from Apple is tough to beat, the Kindle Fire has a couple of tricks up its sleeve. As Kindle products run on the Android system, users have access to the Google Android App Market. They also have access to Amazon's App Store which offers over 20 million movies, TV shows, songs, magazines, and books, and thousands of popular apps and games, including Netflix, HBO GO, Hulu Plus, Pandora, and more.
Amazon have also ingeniously devised a new web browser exclusively for the Kindle Fire which is called Amazon Silk. With great synchronization between the Wi-Fi internet and the Amazon servers, it allows for seamless exploring on the internet at lightning fast speeds and very low battery usage.
Verdict
To sum it all up, Amazon has not intended to go beyond the other tablets on the market with their Kindle Fire, and this idea is far from it in fact. They have instead come up with a brilliant alternative catering for those with a need for a device somewhere between a basic e-reader and an iPad. In this regard we believe, Amazon has been quite successful, and with a price tag of a mere $159.00, you know this product is here to leave a mark in the market.