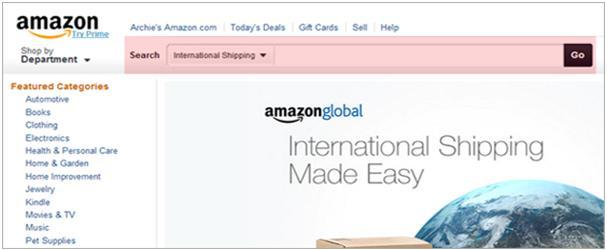 Most online shoppers agree that Amazon is the world largest online store. Amazon operates in an unusual way from any other online store having several local store in different countries like Amazon UK store dedicated for United Kingdom shoppers for example. However Israelis does not such store dedicated for them. And this is the reason Amazon operate the program "Amazon Global Program". There are about two possible ways to shop from Amazon. Below is how:
1. Through The Amazon Global Program
What is the Amazon Global Program?
For Amazon to be able to ship to international countries where they have no local stores they run the program called "Amazon Global Program", this program operated to provide you: unique service and customs clearance, duty and tax estimation during checkout. With this program, Amazon.com is fit to take orders from international consumers/customers and deliver these items to most countries outside the U.S.
Search and Buy Through the Amazon Global Program
Going through the link to the Amazon Global page will take you to the page where the search box filter is automatically set at "International Shipping."
While searching for items, several filters on the left column of the webpage will always appear. You can then tick on the check box next to "Amazon Global Eligible" to sort all products available for international delivery.
When you are sure of what you need to buy, check the "Product Details" just to be sure that the product can be shipped to Poland, and look for the sentence, "This item is also available for shipping to select countries outside the U.S." this must appear on the product description page.
About Amazon Delivery Rates And Times
The delivery rate and speed is a vital factor to consider, simply because your orders will arrive based on the shipping level and speed you choose.
Below are the current shipping speed and rates charged by Amazon for deliveries to Israel:
Standard Shipping: The basic shipping method and the cheapest among three shipping options. Using this method, you can expect your items to be shipped to Israel within 18-32 days. Though, standard shipping is only accessible to limited categories of products.
| | | |
| --- | --- | --- |
| Product Category | Per Shipment | Per Item |
| Books, VHS videotapes, CDs, DVDs, Blu-ray, Music Cassettes, Vinyl | $6.99 | $3.99* |
Expedited shipping: The second and the most popular shipping option because of its affordable rate and for a fair transit time. The approximated shipping time to Israel is 5-12 days.
| | | |
| --- | --- | --- |
| Product Category | Per Shipment | Per Item |
| Books, VHS videotapes, CDs, DVDs, Blu-ray, Music Cassettes, Vinyl | $9.99 | $5.99* |
Priority Expedited shipping: The transit time for this option is 3-5 days. This is the best option for those who are ready to spend more for delivery in order to receive their purchased items faster.
| | | |
| --- | --- | --- |
| Product Category | Per Shipment | Per Item |
| Books, Software, Video Games, CDs, Music Cassettes, Vinyl, DVD, Blu-ray, VHS videotapes, Jewelry, Watches, Clothing Items, Shoes | $39.99 | $9.99* |
| Automotive, Baby, Home, Personal Care, Kitchen, Outdoor Living, Sports, Tools, Toy, Computers, Electronics | $39.99 | $4.99/lb |
| Luggage | $39.99 | $5.99/lb |
| Kindle or Kindle Accessories | $19.99 | $10.99 |
| Any combination of the above items | Highest applicable per-shipment charge | As above |
About The Import fee deposit
For Amazon to successfully process your order, there is an estimated Import Fee that you must deposit: this include the task, custom fee. If the actual Import Fees are less than the Import Fees Deposit collected by Amazon, they will automatically issue a refund of the excess and if the fees are more than the estimated amount, Amazon always charge the deficiency.
2. Importing Items Not Available For International Delivery
For items not available for international shipping/delivery you can get such item ship to Israel with the service of Freight Forwarder.
 How Freight Forwarding works
The process is simple; Freight forwarders provide you a virtual USA address which you can use to shop online (they monitor the address). The provided address will be your shipping address while placing your orders.
If you search online, you'll find quite a handful of freight forwarders, but the one we've used and love its service is Shipito.com
All You Have To Do
Is to create an account with them, don't forget to choose a suitable plan out of the numerous plans available. (Shipito charges are from $8.50). After your account is confirmed and set up, you will provide a distinctive USA street address, you can start shopping online once you receive the address. Using the USA address as your shipping address is the most important while using this method.
The online store will deliver your items to the address that's being monitored by Shipito. From there you will be asked to initiate the shipping of items from the USA address to your real address in Israel.
Using Shipito your item may be delivered next to your doorsteps within as little as 3 days depending on the shipping option you choose and the clearance process in customs.
Advantages of Shopping from Amazon
The major advantage of visiting Amazon Global for Amazon Israel shopping is that it provides a tremendously huge range of goods that you can view online. Being the largest online store, you have a large inventory of items that you can browse through – all within the comfort of your own home.
Payments Methods
As of present, consumers based in Israel can make use of the following payment methods in order to pay for purchased goods at Amazon Global.
American Express,
Diners Club (US billing address only),
Discover,
JCB,
MasterCard,
Eurocard,
Visa,
Visa Check Cards,
Payment from your checking account,
Amazon.com Gift Cards,
Amazon.com Gift Card Claim Codes,
Amazon Payments Stored Balance, and
The Amazon Store Card.
And that brings us to the end of this content. I hope you find the information helpful. If you have any experience about Amazon shopping, please share it to us through the comment section. Please share the article.