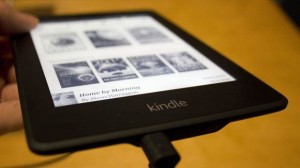 The Amazon Kindle Paperwhite can be considered an 'upped' version of the very famous Kindle e-book reader from Amazon. The device offers improved hardware functionality that is combined with a user-friendly and smooth performing software to give you the best e-book reading experience. Let's see how well does the Kindle Paperwhite do as a practical everyday usage device in our review.
Hardware
The Kindle Paperwhite measures 117 x 9 x 170mm (WxDxH), and weighs 220 grams for the model with 3G whereas the model without 3G weighs 212 grams. The device is now also black instead of dark grey like the earlier Kindle Touch. On top of that, the matte, soft-touch finish feels a little more sleek and expensive than most other e-reader devices that you would find in the market today.
In addition to this, the Kindle Paperwhite has a matte screen that reflects light like ordinary paper so you can read as easily in bright sunlight as in your living room with no glare.
Performance
As with the complete Kindle lineup from Amazon, reading is a real pleasure. For turning pages, the Kindle Paperwhite's screen is broken up into three zones. The bottom right zone is the largest; tap anywhere there while reading, and you'll advance a page. Tap the slimmer portion to the left, and you'll go back a page. Finally, tap anywhere near the top of the screen, and you'll bring up the Kindle toolbar.
You should note that there are no hardware page turn buttons on the Kindle Paperwhite. While some may complain, many think that this may be a blessing though, since complaints about reliability issues with the button-featuring earlier Kindle models are cropping up on forums.
Based on Amazon results, the Kindle Paperwhite is good for roughly eight weeks of reading on a single charge given that you have wireless turned off. At any rate, battery life for e-readers is great, and you can forget about worrying on that aspect of your device.
Software
Amazon has finally improved the home screen as well. Instead of the old, boring, inflexible list of books and collections, the Kindle Paperwhite displays covers of recently read books and ones that Amazon recommends to you from the Amazon Store. There is also a Home icon at the left corner of the reworked Kindle toolbar that brings you back to this screen at any time.
There are now six font choices with eight size options available, plus three settings each for line spacing and margin spacing. The new fonts are an improvement, and help bring the Kindle Paperwhite in line with all the competing e-book readers in the market today.
Access to the Amazon Cloud is also provided, and general internet speed is great with the Wi-Fi. Amazon have added a new Silk Browser to their device, which is also noteworthy for its fast performance and speeds while browsing the internet.
Verdict
The Kindle Paperwhite is a much thinner and flatter e-book reader device than most of its competitors. It feels nicer, has a sharper screen with better contrast, and has better lighting – in other words, it is a better e-book reader. And if that indeed is your priority, it will be tough to go wrong with the Kindle Paperwhite.