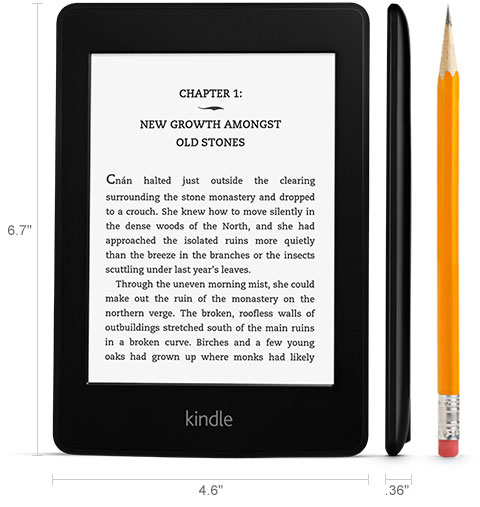 In this new age of portable tablets and smartphones, the regular E-ink readers look old and moldy beside devices with large, high-resolution colour screens. The Kindle Paperwhite therefore, is probably the biggest thing to happen to Amazon's e-book reading lineup since the introduction of the original Kindle E-ink display e-book reader almost six years back. Get to know more about what comes in the latest offering from Amazon as we review the new Amazon Kindle Paperwhite e-reader.
Design And Hardware
The new Amazon Kindle Paperwhite e-book reader is incredibly light, easy to use and handle, and will perfectly fit comfortably in your hands. It is also especially made and designed with an innovative style making it among the thinnest e-book readers in the market today – note that it is about 0.47 inches thick 6.5 inches tall, and 5.0 inches wide – which is quite impressive, really. Furthermore, it has inherited the warm, grippy rubberized rear from its big brother – the Amazon Kindle Fire.
Unlike a back-lit tablet display, Kindle Paperwhite guides light towards the surface of the e-ink display from above so that the light never shines directly towards your eyes, allowing you to read comfortably without eye strain. The built-in light illuminates the screen more evenly than a book light or lighted cover.
Performance
One of the pros about the Kindle Paperwhite is that it features high contrast screen to make you feel like you were reading straight from a paper. Its one-of-a-kind screen is especially designed to eliminate the glare so that you can read just about anywhere you want. Aside from being able to read books through this amazing e-book reader, you can also read magazines, newspapers, and blogs providing you easy access to many other reading materials through the Kindle Store where you can make purchase and download readings directly to your device.
Swiping the touchscreen to flip pages soon becomes second nature although, unlike earlier buttoned models, it does make reading while snacking a messy proposition.
Based on battery life performance results from Amazon, you can expect to achieve an astounding battery life of up to 8 weeks, given that you use it for 30 minutes of reading per day with wireless signal turned off and the front light settings at 10. Even with all these considerations, the battery life continues to be among the best, if not the best, in modern e-book reader of today.
Software
The software on the Kindle Paperwhite has lots to offer to its user and Amazon just keeps loading on the digital reading features into the Kindle lineup. Popular tools in the Kindle Paperwhite include Amazon's X-Ray feature linking to themes and explanations, Wikipedia entries, an excellent dictionary and even instant translations to 15 languages by just tapping and holding a word to explore.
You can swipe to highlight sections in the text of a book or make notes, and sharing via Facebook or Twitter is straightforward.
The Kindle Paperwhite has an "experimental browser" called Amazon Silk which is quite decent for the average e-reader user.  You should be able to browse almost all websites on the world-wide web quite comfortably with it.
Verdict
When you go through the device thoroughly, you can conclude that the Kindle Paperwhite has clearly been designed by readers for readers, delivering the fastest, sharpest, clearest e-book reading experience of any device on the market, including high-priced tablets. Reading features are easy to access and intelligently presented, with smart online options. A great buy for literature lovers indeed.