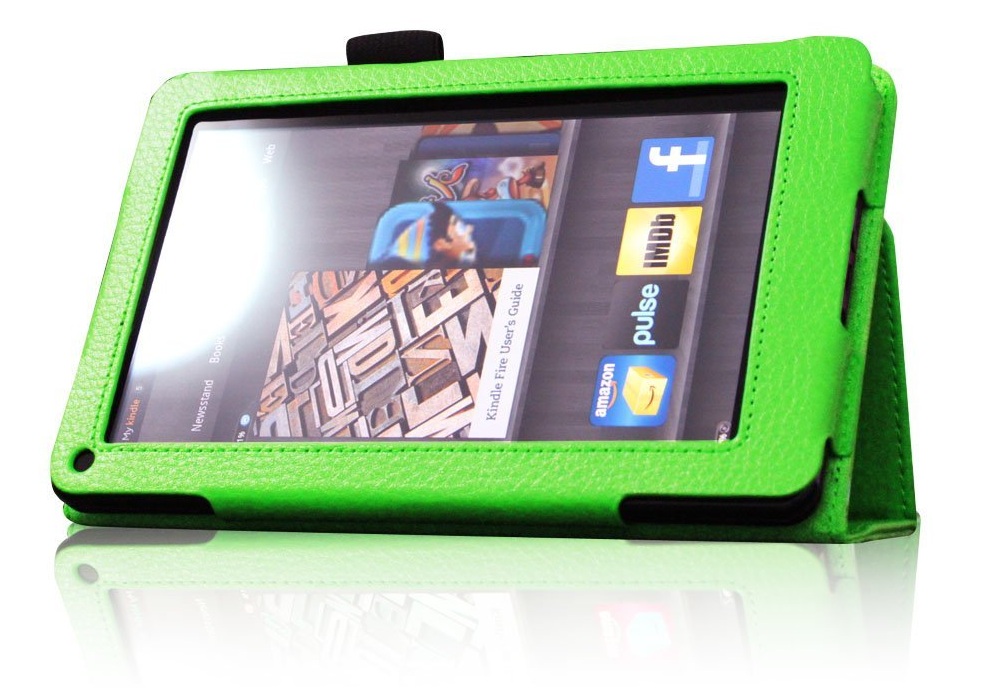 Amazon offers a variety of accessories for its inaugural tablet PC lineup, the Kindle Fire. These may include Kindle Fire covers, sleeves, cases as well as screen protectors and separate charging adapters. Via Amazon Global, most of these Kindle Fire accessories are available for ordering and purchase to international consumers including Kindle users based in Singapore. Let's take a look at some of the more popular Kindle Fire accessories below.
Kindle Fire Lightweight MicroShell Folio Case Cover by Marware
The Marware MicroShell Folio is a sleek, lightweight cover that protects your Kindle Fire and stands it horizontally for hands-free reading and viewing. It features a hard polycarbonate back shell fused to a rubberized front lid that offers ultra-light protection from scratches and mild impact. For added convenience and protection, the elastic strap is heat-fused to the back shell and secures the MicroShell Folio whether it is open or closed. A durable and strong protection for your Kindle Fire that is also easy to use and install.
Amazon Global Price: US $14.99
Fintie Slim Fit Folio Stand Leather Case for Amazon Kindle Fire
Made from durable synthetic leather with soft interior, the Fintie Slim Fit Folio Stand Leather Case is specifically designed for the Kindle Fire 7 inch tablet PC. Its cover has flip capability to transform the case into a horizontal viewing stand and it is designed with a smart holder for stylus/pen use. All tablet features are accessible through cut-outs and openings. Available in a huge variety of 10 vibrant color options.
Amazon Global Price: US $10.99
AmazonBasics Portable Fold-Up Travel Stand for Kindle Fire
The AmazonBasics portable fold-up travel stand is designed for use with nearly all new lightweight tablet and e-Readers from 6″ to 12″ displays including Kindle Fire. It's compact and quite well engineered, and is the perfect portable accompaniment for the Kindle Fire.
Amazon Global Price: US $11.16
Onguard 7-Inch Sleeve for Kindle Fire
Being a revolutionary solution it is for carrying, storing and viewing your tablet, this sleeve folds into a triangular stand that offers horizontal and vertical viewing positions. The Onguard 7-Inch Sleeve fits several different brands and models of 7-inch tablets including Kindle Fire and many others. Made from premium microsuede material, it features rigid inserts that provide additional screen protection for your Kindle Fire. The sleeve is perfect for storing, transporting and viewing your tablet PC.
Amazon Global Price: US $44.99
myGear Products RashGuard Screen Protector Film for Amazon Kindle Fire
Why let fingerprints and streaks annoy you on your Kindle Fire? You can throw on a High Quality RashGuard from myGear Products to your Kindle Fire and wave those pesky fingerprints goodbye. The screen protector is hard coated, scratch and scuff resistant and the package includes 3 high quality Kindle Fire screen protectors, squeegee, and also a cleaning cloth.
Amazon Global Price: US $8.99
Home / Travel Charger for Amazon Kindle Fire
The Standard Travel/Home/Wall Charger plugs directly into the phone or desktop charger stand to charge your phone or PDA phone battery. Keeping an extra charger is handy at home, in the office or while traveling, especially where it may not be easy to plug your Kindle Fire to your laptop for charging purposes.
Amazon Global Price: US $3.74