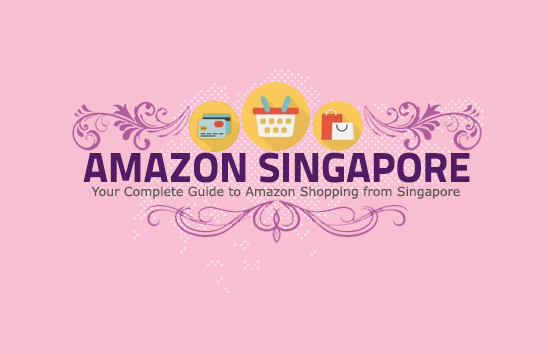 You Googled Amazon Singapore, Amazon SG, Amazon.com.sg. And no matter how far you go from the search result, the Amazon Singapore simply will not show up.
Reason: It does not exist.
Is that the end? No. Shop at Amazon USA straight from Singapore.
Why? Does Amazon ship to Singapore? Yes.
But how come, when I tried once, Amazon told me that my item does not ship internationally? Because you failed to find the items that are eligible for shipping to Singapore.
So, how can I do that? This article will answer your question.
Post Topic
In this post, I will show you on what Amazon page you should visit first, how you search products eligible for shipping to Singapore, how you check out, and how you calculate the shipping and other fees.
I will also show you a tip on how to ship anything from Amazon to Singapore.
Amazon Singapore Shopping Link
So let's begin with the Amazon link for Singaporeans. Here it is and go through the page. Make sure you come back at Spotastore.com so you'll be guided properly.
10,000,000 Million Products for Sale to Singaporeans
More than 10,000,000 Amazon products are eligible for direct shipping to Singapore.

With the Amazon Global Program, Singaporean online shoppers can select from over 10,000,000 products including books, electronics, laptops, mobile phones, toys, clothing, shoes, jewelry and accessories, kitchen and home improvement items, outdoor products, power tools and a lot more.
Just be sure that you are selecting a product that is eligible for Shipping to Singapore.
…which leads me to the next topic.
Question
How do you search for Amazon products that are eligible for delivery in Singapore?
2 Awesome Tips When Searching Amazon
Amazon sells hundreds of millions of products. Picking a product that ships only to the United States will be very frustrating. So, here are two (2) tips to remember when searching for that Amazon product you can't wait to be in your hands.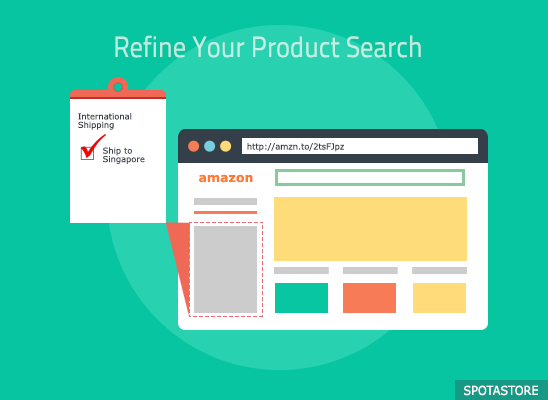 1st TIP. That Special Link Only.
Still haven't checked the link I provided above? If not check it out and whenever you shop at Amazon, click only the Amazon to Singapore Link. This link leads you to a special page where all items listed in there are all eligible for shipping to Singapore. With this specific web page, you get to experience like shopping at an Amazon Singapore store.
2nd TIP. Filter your Search
Use the long Amazon search box to find the product you are looking for. On the left side of the search results, you will see several filters including Product Categories, Brand, Color, Price Range, and International Shipping. Focus on the International Shipping filter and hit the check box on the option "Ship to Singapore".
Question
What if I want a very specific model of a product that does not ship to Singapore, do I have any chance of shipping it to Singapore?
Freight Forwarders Save the Day!
Here's my secret to boundary-less online shopping. I use freight forwarders.
Freight Forwarders are mostly US-based companies that helps overseas online shoppers in placing orders to popular online sites that ship only to United States.
How can they help you?
Freight forwarders, like Shipito.com, provides its members a real USA Address which can be used as shipping address when shopping at their favorite stores. Upon receipt of the orders, Shipito will then do the international delivery to your home address. To learn more of Shipito's services, check out their website here.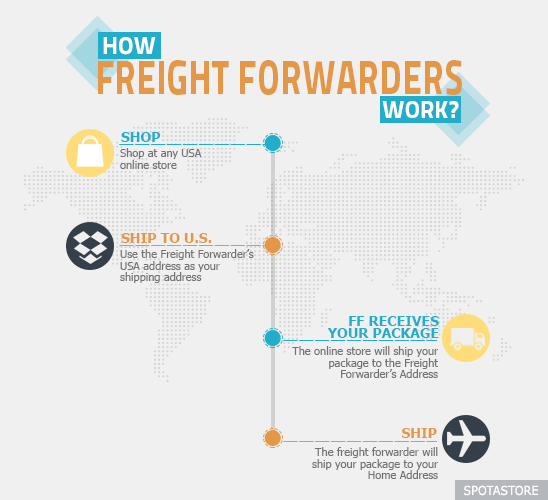 Will that mean the shipping address that I will provide Amazon will be different with my billing address?
Yes. Your shipping address then will the USA address which will be provided by your freight forwarder. The billing address of your credit card, the one you will use in purchasing the product, will remain the same.
Question
What if the store will not accept my card for having a non-US billing address?
While most US stores will accept your credit card, some may decline to accept it if it was issued outside of the United States. The solution, use US Unlocked. For a minimal membership fee and loading fee, you'll get a debit card with your Shipito US address as your billing address.
To learn more about US Unlocked, head to their website through this link.
…Let's proceed with your Amazon Shopping Guide.
5 Easy-to-Follow Steps When Shopping at Amazon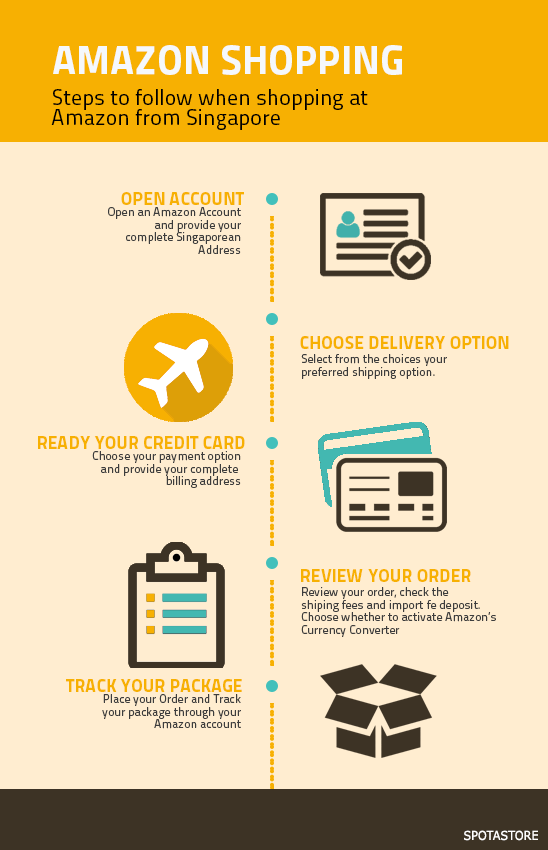 After selecting the product you want to buy from Amazon and ship to Singapore, follow these 5 easy steps to place your order.
First, Set up your Account at Amazon.com if you have none yet. Then, key in your Singaporean address as your Shipping Address.
Second, select from the available options your desired Delivery Method. Amazon Global usually has 3 choices for delivery, which vary in fee, and transit time. The Standard Shipping (9-12 days), Expedited Shipping (5-10 days), and Priority Shipping (3-5 days). Standard is the cheapest while Priority Shipping is the most expensive. A table of shipping fees is provided below.
Third, supply your credit or debit card details. Amazon accepts major credit cards including those issued by DBS, OCBC Bank, United Overseas Bank, among others. Make sure that the billing address you supply matches  card's billing address. Payments made through Paypal will not be accepted by Amazon, neither will cheques, cash on delivery, or wire transfer.
Fourth, check the summary of your order. The Summary will include the purchase price of the item, the shipping fee, and the import fee deposit. Here, you will also have the option to enable Amazon Currency Converter.
Amazon Currency Converter
By default, you will be charged by Amazon in the currency of your credit card. Thus, the prices in the summary will be in Singaporean Dollar. However, you can opt to be charged in US Dollar and your issuing bank will handle the currency conversion that will be reflected in your bank statement.
Import Fee Deposit
Since you are buying from overseas, and you are bringing into the shores of Singapore some goods, import fees come into play. In Singapore, a
GST
at the rate of 7% of the Final Landing Cost is charged for importing goods.
Fifth, track your package and wait until it reaches your doorstep. You can track your package by simply going to your Orders in your Amazon Account and hitting the corresponding Track Package button.
Amazon Shipping Fees
To calculate Amazon Shipping fees, refer to the table below.
Product Classification
Per Package
Per Item
AmazonGlobal Standard Shipping (9 to 12 days)
Books
$4.99
$4.99
AmazonGlobal Expedited Shipping (5 to 10 days)
Books
$13.99
$5.99
Kindle or Kindle Accessories
$8.99
$2.99
Clothing, Jewelry, Shoes, Watches, and other Fashion items
$13.99
$4.99
Computers, Automotive, Baby, Electronics, Home, Kitchen, Outdoor Living, Luggage, Personal Care, Tools, Sports, Toys
$13.99
$2.49/lb
A combination of any of the items above
$13.99
as above
AmazonGlobal Priority Courier Shipping (3 to 5 days)
Books, Jewelry, Clothing, Shoes, Software, Watches, Video Games
$29.99
$5.99
Computers, Automotive, Baby, Electronics, Home, Kitchen, Outdoor Living, Luggage, Personal Care, Tools, Sports, Toys
$29.99
$5.99/lb
Kindle or Kindle Accessories
$14.99
$5.99
A combination of any of the above items
The rate shall be the highest applicable fee
same as above
To compute your shipping fee, simply identify the product category, and the add the corresponding per package fee with the per item fee.
Example: For a 3 pound laptop, the fee for Expedited Shipping shall be $13.99 plus (2.49 x 3 lbs) = $21.46. That sounds reasonable considering that the price of the laptop is most likely way cheaper than those sold by local retailers.
3 Reasons Why You Should Shop at Amazon US
1. Biggest Store, More Choices.
Amazon.com is the biggest online retail store in the world that has a great number of branches and online stores spread wide across the globe. This means that you have many choices to browse through before you finally decide to make your purchase.
2. Safest. Most Trusted.
With the increased frequency of fraudulent scams prevailing over the internet and news of such events coming from sources all over the world-wide web, it may seem very risky to the average online shopper in Singapore to find a trustworthy online retailer. In this regard, you can consider yourself very safe indeed as Amazon.com is a trusted online retail store with a truly credible history in the business. Rest assured, you will not be scammed from your money if you follow Amazon's procedure for ordering something from their store. This fact alone puts it high up on the list of online retail sites.
3. Stronger SG Dollar translates to Savings.
Thanks to the present trend in the economy, the Singapore Dollar is getting stronger everyday as compared to the US Dollar. Where it was considered extremely expensive for consumers in Singapore to purchase something online from an international web-store, the activity is now thought to be relatively cheaper and affordable. If this trend continues, Singaporeans may actually expect to find cheaper goods online from Amazon as compared to the local market.
Amazon Singapore is Amazon Global
I hope that this comprehensive guide will be of help to you when you shop at Amazon. Indeed, Amazon has a lot of good stuffs in store not only for US-customers but also for us located in Singapore. True, a standalone Amazon Singapore or Amazon SG will be great but for now, you can take advantage of the Amazon Global Program and the 10,000,000 products that it can ship to Singapore.
Have you tried shopping at Amazon USA from Singapore? Why not share your experience to us in the comment box?