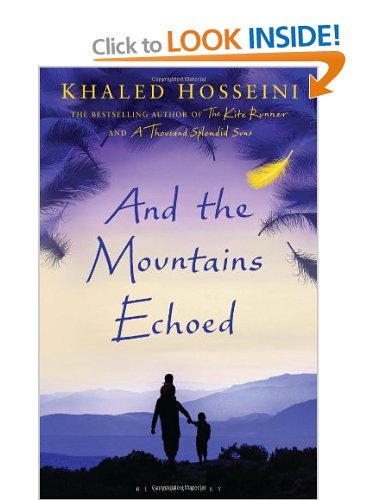 Kindle ebooks available from the Amazon book stores have played an important role in promoting the culture of purchasing book over the world-wide web and making ebooks accessible to users to whom they were previously inaccessible, or simply making them come closer to the acceptance of ebooks as a potential alternative to separate hard paperback books. Here are the five best-selling Kindle ebooks that you can order online from Amazon UK.
And the Mountains Echoed
And the Mountains Echoed is a story of love, separation, friendship, compassion, exile, memory and the troubled history of Afghanistan, spanning three continents and 60 years. It has been written by Khaled Hosseini, the #1 New York Times–bestselling author of 'The Kite Runner' and 'A Thousand Splendid Suns'. If you have enjoyed Khaled Hosseini's earlier work, you will definitely enjoy this one as well. Definitely worth a read on your Kindle e-reader.
Amazon UK Kindle ebook Price: £8.75
The Unlikely Pilgrimage Of Harold Fry
The Unlikely Pilgrimage Of Harold Fry tells the story of Harold Fry who nips out one morning to post a letter, leaving his wife hoovering upstairs, he has no idea that he is about to walk from one end of the country to the other. He has no hiking boots or map, let alone a compass, waterproof or mobile phone. All he knows is that he must keep walking – to save someone else's life. The story is an odyssey of a simple man, original, subtle and touching. Recommended for all.
Amazon UK Kindle ebook Price: £2.69
The Hundred-Year-Old Man Who Climbed Out of the Window and Disappeared
Penned by author Jonas Jonasson and translated by Rod Bradbury, The Hundred-Year-Old Man Who Climbed Out of the Window and Disappeared is a thrilling, mysterious and highly enjoyable story of Allan Karlsson, a man now on the run from an old people's home, and who helped to make the atom bomb, became friends with American presidents, Russian tyrants, and Chinese leaders, and was a participant behind the scenes in many key events of the twentieth century. The book is already a huge bestseller across Europe and is a is a fun, feel-good book for all ages.
Amazon UK Kindle ebook Price: £3.99
Billy and Me
Billy and Me is a gorgeously romantic debut novel about the redemptive power of love by actress, journalist and blogger Giovanna Fletcher. It is the story of Sophie May whi lives in a little village with her mum and works at a teashop. She meets the gorgeous Billy, an actor with ambitions to make it to the top. And when they fall in love, Sophie is whisked away from the comfort of her life into Billy's glamorous – but ruthless – world.
Amazon UK Kindle ebook Price: £3.99
The Hive
The Hive is an irresistible, brilliantly observed novel from author Gill Hornby. The novel is warm, witty and true. Wickedly funny, it is also a fascinating and subtle story about group politics and female friendship. From the joys and perils of the Lunch Ladder, to the military operation that is the Car Boot Sale, via the dos and don'ts of dressing your child as a dalek, all human life is here.
Amazon UK Kindle ebook Price: £6.49