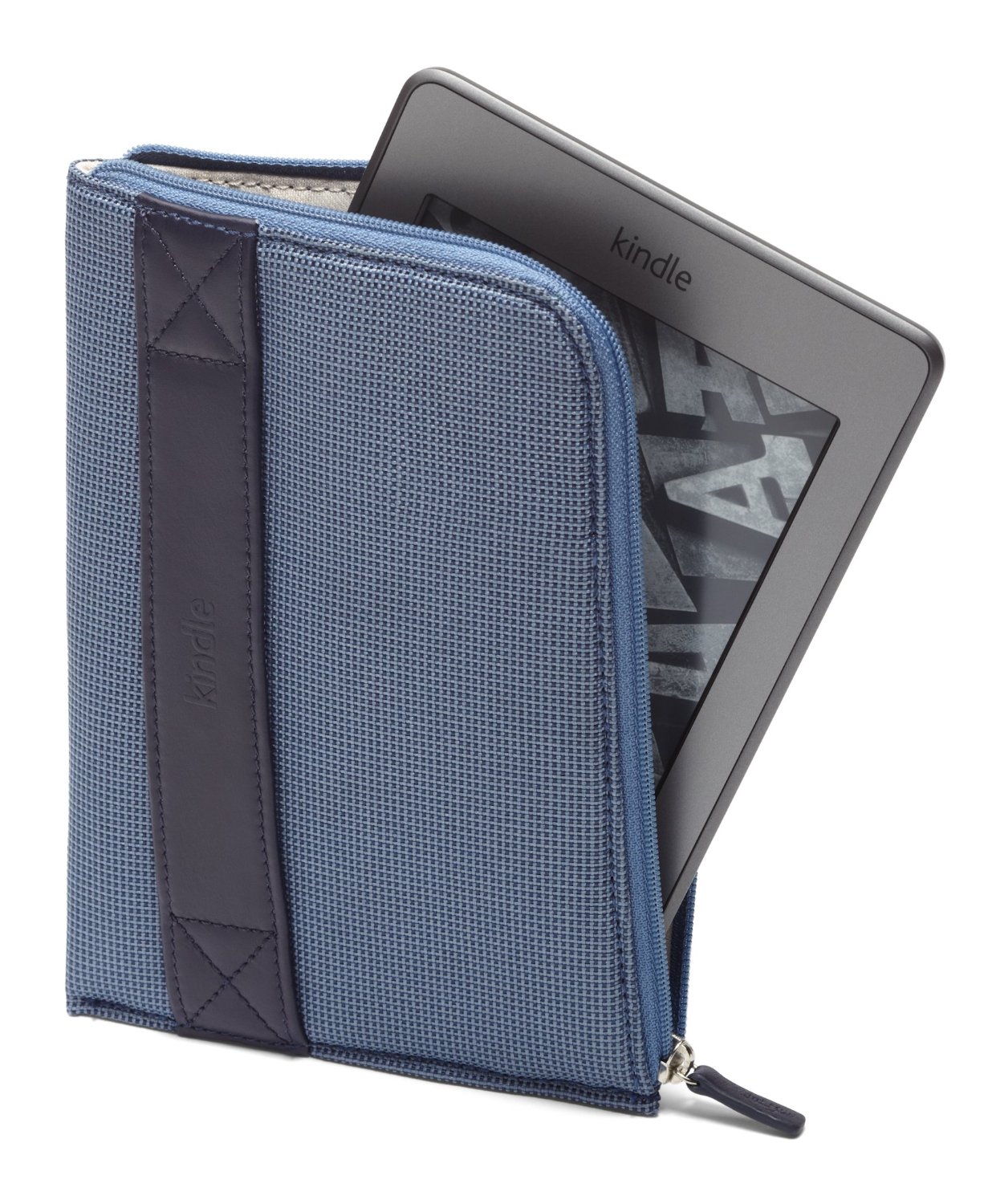 While it can't be denied that the Kindle Paperwhite is a great device for reading e-books, and the device itself has helped to promote reading culture amongst people of all ages and brought those people closer to literature, the device can certainly offer an even better reading experience to all users with the addition of a few accessories. Kindle Paperwhite accessories like covers, cases, sleeves, protectors and other stuff help to enhance the functionality of your device. Let's take a look at the top Kindle Paperwhite accessories that every Kindle owner should have.
Amazon Kindle Paperwhite Zip Sleeve
The Amazon Kindle Paperwhite Zip Sleeve is a stylish nylon sleeve provides optimal protection for your Kindle while you're on the go. The lightweight material, slim design, and zipper closure make it easy to quickly and securely stow your device in any bag or purse. There is an internal fabric covered sponge covering front and back that allows the new kindle to fit in nice and snug minimizing any shocks from moving about with it. An easy-to-carry sleeve for your Kindle Paperwhite, definitely recommended for those who also want to add a little style to their device.
Amazon UK Price: £20.99
ForeFront New Kindle Paperwhite Leather Case Cover
The ForeFront New Kindle Paperwhite Leather Case Cover is an individually hand crafted leather case cover that is designed specifically for the new Kindle Paperwhite and is handcrafted from full grain microfiber leather. The cover has a magnetic Auto Sleep Wake Function turning your Kindle Paperwhite off when you close the case and on when you open it. It offers full in-case functionality with access to all buttons and ports including headphones, volume, mute and sleep buttons. The cover itself is thin, stylish and durable helping you keep your Kindle Paperwhite well protected and free from scratches, scuffs and damage. The inner surface is cover lined with soft microsuede interior and has compartments inside to hold cards.
Amazon UK Price: £8.99
Verso Kindle Paperwhite Cover
The classic damask pattern on the Verso Kindle Paperwhite Cover is printed canvas that adds an air of sophistication to your Kindle. Sized to perfectly secure your Kindle device, this cover also features our patent-pending corner strap system so your Kindle will be securely fastened to the cover. Lined with an ultra-soft microfiber material, this cover also has an interior pocket for documents and an elastic tab closure. Available in a variety of stylish and colourful abstract patterns.
Amazon UK Price: £29.99
Main Charger For Amazon Kindle Paperwhite
The 'Main Charger' is a high quality, stylish after market charger that features a compact, lightweight & stylish design with rapid I.C controlled charging for enhanced short circuit protection. For durability and reliability, it is fuse protected with auto sense input voltage. Great for users who do not want the hassle to charge their Kindles using their laptops every time the battery runs low.
Amazon UK Price: £3.29
Amazon Kindle Paperwhite Screen Protector Case / Guard / Film / Cover
This screen protector offers long lasting protection against dust, scratches and gouges for your Kindle Paperwhite. The highly transparent film provides added screen contrast for brilliant colours. The package also includes cleaning cloth and applicator card for easy installation and maintenance.
Amazon UK Price: £1.99